Sold Out
Organic Beets and Carrots Blend
$49.00
Meet our highest fiber blend yet, in collaboration with Lauren Scruggs Kennedy! Made with only 6 ingredients, this naturally sweet protein contains nothing more than vitamin and mineral-packed beets, carrots, red reishi, and superfoods to mix into all your favorite recipes. Our veggie-forward blend provides the equivalent of one beet and one medium carrot in every serving—so that every sip or bite delivers tons of nutrition to support your healthiest life. It's gut-loving, energy boosting, heart healthy, rich in beta carotene, and ready to be yours this summer.
Organic Dates
Organic Non-GMO Pea Protein
Organic Beets
Organic Carrots
Organic Turmeric
Organic Vanilla
An eco-friendly alternative to animal-based proteins, our plant-based organic pea protein is vegan, allergy-safe and easy to digest, all while giving you the energy you need for the day
Organic turmeric provides immunity-boosting antioxidants and essential minerals like iron, magnesium, and potassium
Incredibly rare and full of intense flavor, organic vanilla boost your immune system, calm your nerves and improve your complexion—plus, they're high in antioxidants, which help defend your cells from damage
High in fiber and packed with antioxidants, organic deglet noor dates are a sweet way to add some natural sugar into the foods you love, without the added guilt
Organic beets are serious sources of phytochemicals, which are associated with fighting cancer, protecting against vision damage and preventing atherosclerosis—plus, beets are known to lower blood pressure.
Organic carrots are packed with beta carotene, which plays a major role in protecting your eyes from sun damage and cataract development—not to mention, carrots promote regular bowel movements.
* These statements have not been evaluated by the FDA. This product is not intended to diagnose, treat, cure or prevent any disease
All of our protein blends are:

Organic
100% Vegan
Dairy-Free and Gluten-Free
No Added Sugar or Preservatives
Allergen-Free
Heavy Metals Tested
Blend, shake or sprinkle into dairy or non-dairy milk, yogurt, oatmeal, pancakes or waffles—the possibilities are endless!
RECIPE INSPIRATION? Click here
Recommended Recipes
From savory to sweet (and everything in-between), our protein blends can be easily incorporated into almost any meal for the entire family. The possibilities are truly endless, and we're just getting started.
This Whipped Beet Ricotta is vibrant and delicious, especially when surrounded by a variety of fresh veggies to dip in it! It's...
Read more →
HEALTH BENEFITS
ORGANIC BEETS + CARROTS
SUPPORTS HEALTHY EYESIGHT
Known as a precursor to vitamin A, beta carotene plays a major role in protecting your eyes from sun damage and cataract development. It's also responsible for giving carrots their bright orange color! Even better, this blend is rich in lutein, which contributes to healthy eyesight by preventing age-related macular degeneration and diabetic retinopathy.
RICH IN PHYTOCHEMICALS
Both carrots and beets are serious sources of phytochemicals, like lutein, zeaxanthin, and betalains. These phytochemicals are associated with fighting cancer, protecting against vision damage and preventing atherosclerosis—aka, the buildup of fats, cholesterol and other substances in and on your artery walls.
ENERGY BOOSTER
ATake your workout to the next level. Eating beets and carrots may improve exercise capacity and endurance by promoting healthy blood flow and efficient oxygen use throughout the body.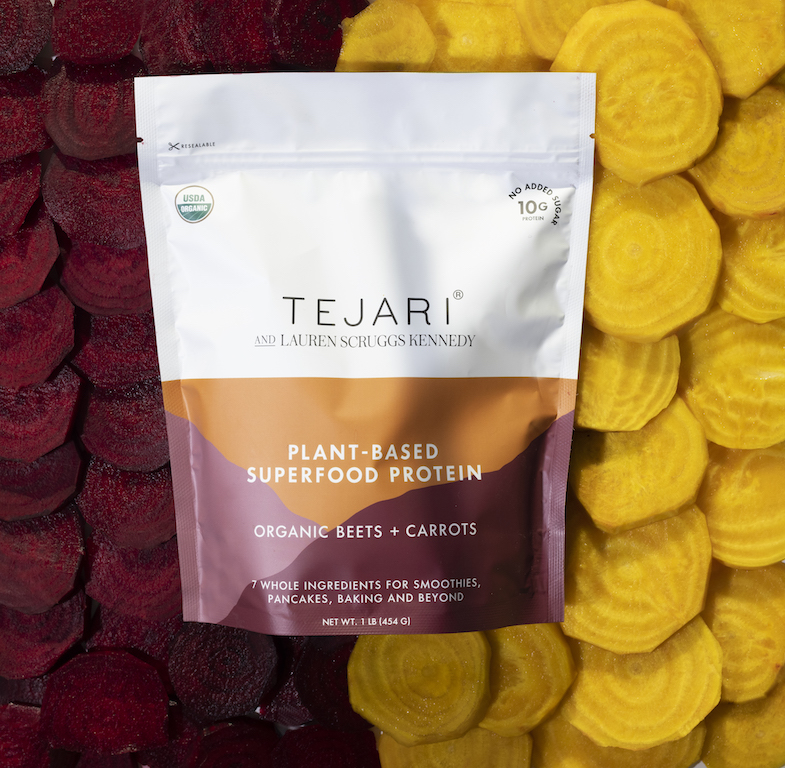 THE TEJARI STANDARD
We really care about using the highest quality of ingredients.
You will never find any of the items listed below in our products.

CANE SUGAR

ARTIFICIAL SWEETENERS

XANTHAN GUM

CELLULOSE GEL

CARRAGEENAN

MAGNESIUM PHOSPHATE

SODIUM ASCORBATE

POTASSIUM PHOSPHATE

GUM

FILLERS

SALT000

ACESULFAME POTASIUM
"I added Tejari to my usual banana bread mix and it made for such an extra special treat! I love baking and a sweet tooth so I'm so happy to finally have something easy to add in pretty much antyhing for a boost of protein and flavor!"
LEAH SILBERMAN
" I love the Tejari blends.The flavors and texture are so high quality and subtle. It's the perfect on-the-go nutrition boost for when I'm working on locatio."
Jenner
Why We're Different
Dairy Free
No Added Sugar
Vegan
Gluten Free
Love love love the Beet Blend
This is the perfect blend of sweet and nutritious flavor. I mix two tablespoons with Greek yogurt and sprinkle some almonds on top...it is divine. It's my favorite breakfast, lunch or snack. The pretty pink color is fun too. 😁
My picky 6 year old is a huge fan!
I have been looking for a clean, plant based protein powder that my daughter wouldn't notice hiding in a smoothie. (Identifying the presence of a sugar substitute is her superpower). The Organic Beets and Carrots Blend not only passed the test, but greatly improved the taste and sweetness of our breakfast fruit smoothies! SO glad I found this company!
Delicious!
The flavor is incredible and not too sweet. I immediately made a slushee and can't wait to add it to my baking. HIGHLY RECOMMEND!
Amazing flavor!
I love this beets and carrots blend protein powder!! The flavor is lightly sweet, and one smoothie fills me up. And I love the color!
Healthy, tasty, definitely worth it
Surprisingly refreshing on these hot summer days. Blends well. I make the smoothie with strawberries, apples, bananas, beets