BREAKING DOWN OUR ORGANIC INGREDIENTS
PEA PROTEIN
This plant-based protein is safe for vegans to eat, is allergy-safe and easy to digest. Pea protein is an eco-friendly alternative to animal-based proteins. Peas need less water and energy to grow.
SUPERFOODS
Adding superfoods, such as cinnamon and turmeric, is a flavorful way to get a dash of antioxidants and anti-inflam-materials into your diet. Spinach is an extremely nutrient-rich vegetable containing high amounts of carotenoids, vitamin C, vitamin K, folic acid, iron and calcium.
FRUIT
Always a good source of vitamins and minerals! The recommended daily allowance of fruit is 1 to 2-1/2 cups.
ORGANIC TURMERIC: Potent anti-inflammatory and antioxidant. This potent anti-inflammatory and anti- oxidant may even help reduce or prevent some of the potential damage caused by free radicals.


ORGANIC SPINACH: This green leafy vegetable is packed with vitamins and minerals, including: Vitamin A, C, K1, B6, B9, E, Folic acid, iron, calcium, potassium, magnesium. It also promotes a healthy immune system and boosts energy levels.


ORGANIC CINNAMON: Low glycemic and heart healthy, cinnamon is packed with a variety of protective antioxidants and contains essential oils that have powerful immune-boost- ing properties.


ORGANIC BLUEBERRY: Naturally low in calories and fat, blueberries provide decent amounts of healthy fiber. They're also a good source of manganese, vitamins C, K1, E, B6 and copper.


ORGANIC BANANA: One of the most heart healthy fruits, bananas are an excellent source of vitamin B6, potassium, fiber and vitamin C.


ORGANIC STRAWBERRY: Rich in antioxidants and plant compounds, strawberries are also an excellent source of vitamin C and manganese. They also contain decent amounts of folate (vitamin B9) and potassium.

WHAT'S INSIDE OUR BLENDS
Crafted using the highest standards, Tejari blends are sourced from only the purest ingredients available. All blends are organic, vegan, plant-based (peanut-free and dairy-free), and free of toxins and artificial sweeteners. We're also proud to have been tested for heavy metals.
WE SIMPLY SAID NO TO:
No Cane Sugar
No Corn Syrup
No Artificial Sweeteners (no stevia, sucralose, aspartame, etc.)
No Xanthan Gum
No Cellulose Gel or Gum
No Carrageenan
No Magnesium Phosphate
No Sodium Ascorbate
No Potassium Phosphate
No Acesulfame Potassium
No Salt
No Fillers
We're committed to finding the best available ingredients to create products that are better, in so many ways. Learn more about our
Give Back Initiative.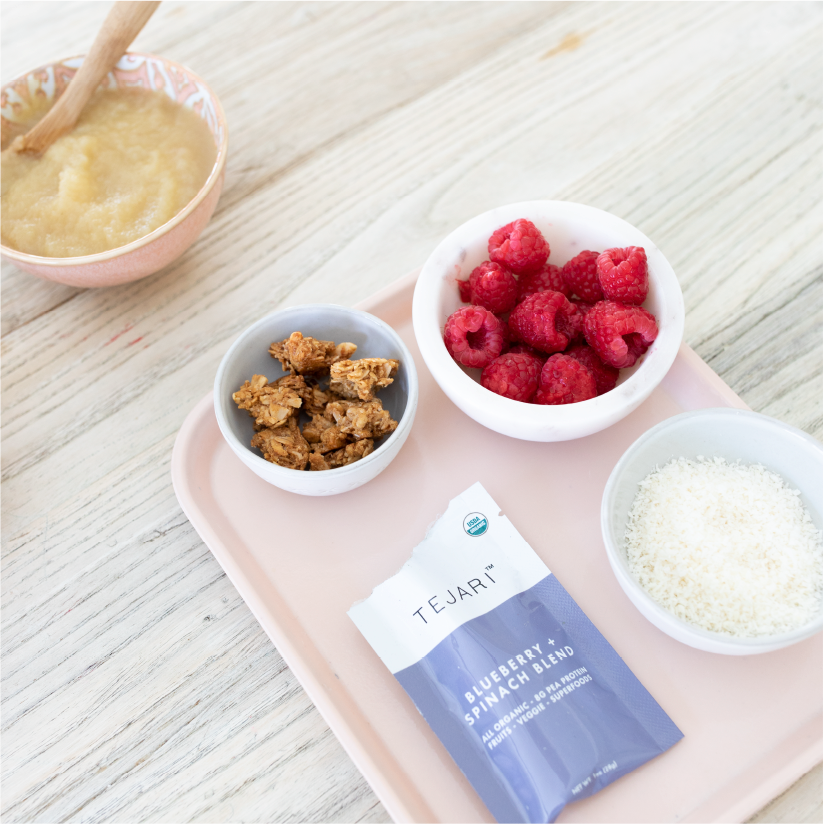 WHO IS TEJARI FOR?
Tejari is a quick meal for time-starved adults; a healthy supplement for kids; and a wholesome snack with extra protein for humans of all ages.
HERE ARE JUST A FEW TIMES TEJARI SAVES THE DAY:
Make the most important meal of the day count, add to your breakfast smoothie or yogurt
For a burst of energy in the middle of the workday
As an after-school snack for ravenous kids
As an on-the go fix during your commute
When you have back to back conference calls
Instead of reaching for the Skittles
To stash in your carry-on for a business trip
SHAKE
8oz Dairy
8oz Non-dairy, such as almond, oat or coconut milk
8oz Water
SPRINKLE
Greek yogurt with granola
Apple sauce
Oatmeal
Peanut butter and jelly sandwitch
BLEND
Energy balls
Granola bars
Pancakes or waffle mix
Any baked dish, such as banana bread, lemon cake - for an extra dosage of protein and nutrition
A HEALTHY CHOICE FOR YOUR LITTLES
Unlike most flavored milk, Tejari is based on whole fruit and vegetables, with a boost of filling plant protein, antioxidants from gentle superfoods and gut-healthyfiber - with no added sugar or preservatives.
BETTER ALTERNATIVE THAN:

Danoanimals: 3 tablespoons of added sugar

Horizon: Flavored Milk: 22g of added sugar

Chocolate or Strawberry Syrup: 20g of added sugar
WHAT YOU EAT MATTERS
SCHEDULE: Make life easier and establish a regular schedule of meals and snacks. Have your staple items in the household so you can quickly fix up a nutritious option.
SMALL BITES: We love snacking but it's important its healthy bites and packed with real nutrition - it's no good to grab a handful of chips daily.
VARIETY: Have fun with food - fewer decisions to make, and a greater dedication to your health.
" I love the Tejari blends.The flavors and texture are so high quality and subtle. It's the perfect on-the-go nutrition boost for when I'm working on location. "
" I added Tejari to my usual banana bread mix and it made for such an extra special treat! I love baking and a sweet tooth so I'm so happy to finally have something easy to add in pretty much antyhing for a boost of protein and flavor!"
" OH MY GOSH. it's SO GOOD. I am so excited to share this with my friends. Seriously, WAY TO GO. I've tried so many protein powders and have never loved any of them...too chalky, too weird. Absolutely loved this!"
" I LOVE that it's vegan. It's light and fresh."
" I love the blends. The ingredients are perfect. I really love that you have an advisor who specializes in child nutrition. So many parents worry their children aren't getting enough nutritents."
" I had the Strawberry Blend and loved it! My husband had the Banana blend and said it was 'spectacular'"
" Tejari is perfect because I need something that's not whey protein — it messes with my stomach. Also I don't do fake sugars. I love the texture and color of the powder as well!"
" Loved the Strawberry blend and it was super delicious!! Like I feel I could just eat the blend straight."
" It's so nice to see a blend with real spinach in it - you get all the benefits and it's in a delicious flavor. HIGHLY recommend!"
" I love the texture knowing that it is a protrein blend and it tastes high quality."
" It was unreal. I loved it - especially the taste of cinnamon."
" The blends are delicious! I have been desperately searching for something for the family (I'm having my first baby in two weeks!) and this is perfect. Tastes so good!"
" As someone with multiple food allergies, this is hands down the best tasting nut-free protein blend. Each flavor is equally delicious. Plus, the brand is beautiful."