Organic Pumpkin Spice
$49.00
Our best-selling Organic Pumpkin Spice Blend is back! Out for a limited time only, our pumpkin spice blend is just the magic you need for pumpkin breads, fall lattes, seasonal smoothies and beyond. This pick-from-the-patch is packed with all your favorite autumn-worthy flavors, like organic ground vanilla, dates, nutmeg, and pumpkin (of course!). Not to mention, it's loaded with healthy, clean ingredients like mood-boosting ashwagandha root, immunity-loving turmeric, anti-inflammatory cinnamon, and plant-based pea protein for the extra oomph you need. PSL season, here we come!
Organic Pumpkin
Organic Deglet Noor Dates
Organic Non-GMO Pea Protein
Organic Vanilla Beans
Organic Ashwagandha Root
Organic Cinnamon
Organic Turmeric
Organic Nutmeg
Incredibly rare and full of intense flavor, organic ground vanilla beans boost your immune system, calm your nerves and improve your complexion—plus, they're high in antioxidants, which help defend your cells from damage
High in fiber and packed with antioxidants, organic deglet noor dates are a sweet way to add some natural sugar into the foods you love, without the added guilt
An eco-friendly alternative to animal-based proteins, our plant-based organic pea protein is vegan, allergy-safe and easy to digest, all while giving you the energy you need for the day
A autumn-worthy favorite, antioxidant-rich organic pumpkin not only tastes yummy, it's full of immune-boosting vitamin A and skin-loving vitamin C (we'll take seconds, please!)
Organic turmeric provides immunity-boosting antioxidants and essential minerals like iron, magnesium, and potassium
A dash of organic cinnamon tops off this superfood party with a surprising amount of fiber (score!) and anti-inflammatory properties
Anti-inflammatory organic nutmeg has been shown to have antibacterial properties, protecting you against potentially harmful strains of bacteria—just a few reasons why this fall fave made the cut!
Organic ashwagandha root has been shown to lower blood sugar levels and reduce cortisol levels (aka, the stress hormone), making this ingredient a natural mood-booster*
* These statements have not been evaluated by the FDA. This product is not intended to diagnose, treat, cure or prevent any disease.
All of our protein blends are:
Organic
100% Vegan
Dairy-Free and Gluten-Free
No Added Sugar or Preservatives
Allergen-Free
Heavy Metals Tested
Blend, shake or sprinkle into dairy or non-dairy milk, yogurt, oatmeal, pancakes or waffles—the possibilities are endless!
RECIPE INSPIRATION? Click here
Recommended Recipes
From savory to sweet (and everything in-between), our protein blends can be easily incorporated into almost any meal for the entire family. The possibilities are truly endless, and we're just getting started.
These puffs *look* like they're too good to be true—but they're actually refined sugar free, dairy free, gluten free *and*...
Read more →
HEALTH BENEFITS
ORGANIC PUMPKIN SPICE
IMMUNITY BOOSTING
Organic turmeric provides immunity-boosting antioxidants and essential minerals like energizing iron, stress-relieving magnesium, and electrolyte-loving potassium.

INFLAMMATORY FIGHTER
Organic cinnamon is key in regulating blood sugar and energy levels, repairing tissue damage, and supporting heart health.

LONGEVITY LOVER
Organic red reishi mushrooms have been used for hundreds of years. Their unique presence boosts this blend's protein content by providing two essential amino acids while also enhancing the body's ability to fight off various illnesses.
POTASSIUM REPLETER
Naturally sweet and essential for muscle recovery, organic dates are the star in our superfood protein blends, inching you toward your daily potassium needs in a delicious and balanced way.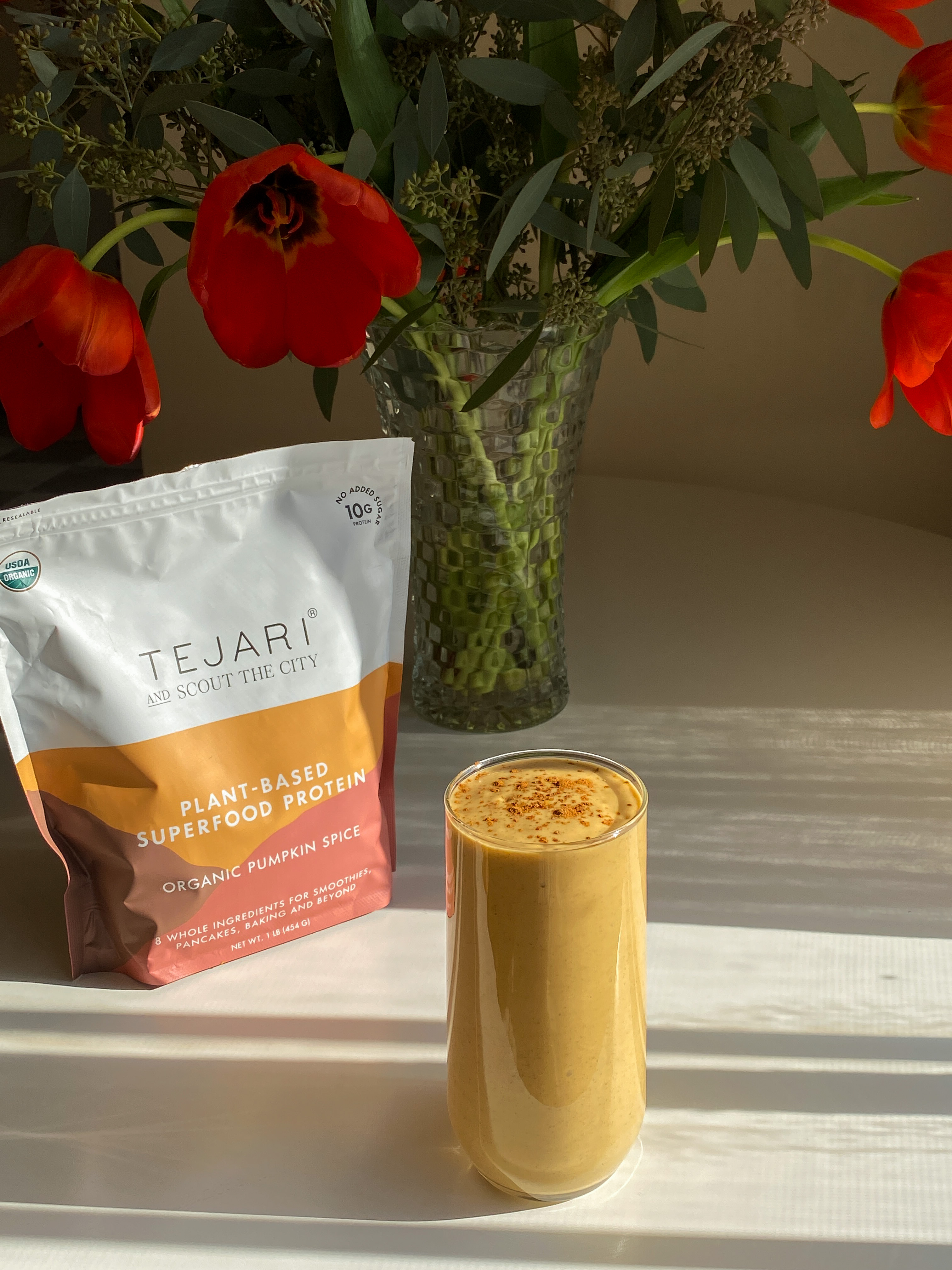 THE TEJARI STANDARD
We really care about using the highest quality of ingredients.
You will never find any of the items listed below in our products.

CANE SUGAR

ARTIFICIAL SWEETENERS

XANTHAN GUM

CELLULOSE GEL

CARRAGEENAN

MAGNESIUM PHOSPHATE

SODIUM ASCORBATE

POTASSIUM PHOSPHATE

GUM

FILLERS
SALT000

ACESULFAME POTASIUM
"I added Tejari to my usual banana bread mix and it made for such an extra special treat! I love baking and a sweet tooth so I'm so happy to finally have something easy to add in pretty much antyhing for a boost of protein and flavor!"
LEAH SILBERMAN
" I love the Tejari blends.The flavors and texture are so high quality and subtle. It's the perfect on-the-go nutrition boost for when I'm working on locatio."
Jenner
Why We're Different
Dairy Free
No Added Sugar
Vegan
Gluten Free